Living in the Bitterroot Valley opens up a HUGE world of activities for you if you like to do things. Whether you enjoy hiking, water skiing, biking, fishing, running, walking, hunting...or whatever....it's all here.
Into cycling? There is a plethora of bike trails for you to explore. It doesn't matter what your fitness level is...there is something out there for everyone.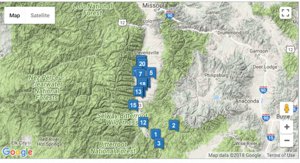 The map above shows 20 trails in the Bitterroot that range anywhere from 2.58 miles to 106.35 miles. Each trail has it's own page where you can see where it starts and ends. It also gives you the elevation levels so you can see the gain in elevation. You can even download the trail onto your smartphone. Here is the link to the trails.
Want something more simple? There is a 51 mile paved bike trail that starts in Missoula and ends just south of Hamilton. Bitterroot Trails ... this trail isn't just limited to biking. It's for any form of recreation that is not motorized. I once saw a horse riding on the trail! This trail runs just along Highway 93 and will change from one side of the road to another. Along the trail you get to lay your eyes on both the Bitterroot & Sapphire Mountain Range. There will be many creeks and rivers to take a quick water break at if you need one. There are plenty of Park & Ride lots along the way so you can pick and choose where to park your car for the start your excursion. You can also plan your trek to coincide with points of interest (like restaurants, brewers or other fine establishments).
I will try to bring more reports on activities that can help you with your pursuit of healthy living. Who knows? I may even see you out there?
Happy Trails to You!